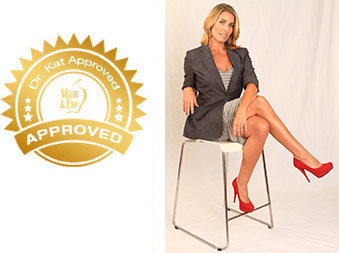 Would you like your .org or .edu to qualify for consideration for a Dr. Kat Seal of Approval?
Send in your link to kat@drkat.com with a brief description of the services you provide and why you should be included. We will then review your request and notify you of inclusion within 30 days.
Then send you the image of the seal you can add to your site. It's that easy.
American Association of Sex Educators
I refer often to its regional locator for therapists. They are the preeminent certification body and provide on-going education and training to those of us in the field.
Internet Sexuality Information Services
This organization develops technology for the promotion of sexual health and healthy relationships, and to prevent disease transmission. They have truly been at the forefront of working with youth while utilizing the tools of technology. They also host the fabulous Sex Tech conference each year.
This organization has gotten a lot of press in the last year for good reason. It was established in order to show LGBTQ youth that suicide is not the answer. It Gets Better has also been heavily involved in anti-bullying campaigns and has spearheaded gay/straight alliances on high school and college campuses.
Near and dear to my heart (I served as president of their board of directors for a number of years), Malama Pono has been one of the first organizations in the nation to offer integrated care and testing for HIV/AIDS, STDs and infectious hepatitis. It is truly the future of public health clinics.
North American Menopause Society
I get many questions each month related to physiological and emotional changes women experience in their forties and fifties. This organization can help women and their partners make sense of those changes, improving the quality of life for everyone involved.
Comprehensive case management care for those with HIV/AIDS is a full time job and this program has navigated the many changes that have occurred over the years in providing these services.
I've worked personally with this affiliate and know their dedication to bringing sexual health services to all of the islands. This is trickier than it sounds when it comes to diversity and accessibility of each island. They have shown themselves open to working collaboratively with other complimentary non-profits in order to achieve this end and I'm proud of the progress they have made thus far.
Society for the Scientific Study of Sexuality
This organization was originally founded to promote rigorous sexuality research and to create standards within the field. Anyone looking for cutting edge information on what's going on in sex research need to only look here.
Based in Northern California, this organization has a comprehensive sexual health program and a nationally recognized peer trained teen clinic. It's a fantastic model I would like to repeat all over the country.
Recommended Colleges and Universities
Arizona State actually has a wonderful counseling intern program that students have access to in addition to a state of the art health center. Would I like to see a Sex Week there? Yes, perhaps in the future.
Although a little dry, their website has a fabulous PDF resource library that includes sexual health topics. They have a very accessible LGBTQ resource center as well.
Center for Sexual Health Promotion at Indiana University
Group of academics from Indiana University that conducted the National Survey of Sexual Health and Behavior. They also provide sexual health education and training.
GoAskAlice! At Columbia University
GoAskAlice! was launched in 1993 making it one of the first sexual health resources guides. Over the years I worked with several Alice! staffers. They have proven to be some of the most knowledgeable resources I still refer to people to on a regular basis.
Kinsey Institute at Indiana University
Everyone knows the Kinsey Institute, right? What you may not know is everything they do beyond sex research. They have stellar erotic art archives and fantastic graduate programs. I highly recommend their Kinsey Confidential website.
Having suffered some negative press as of late about their human sexuality classes and Sex Weeks, Northwestern is still at the forefront of creating a campus culture that embraces sexual health.
SexInfoOnline at University of California at Santa Barbara
The site is maintained by university students from the University of California, Santa Barbara who have studied advanced topics in human sexuality. They provide down to earth answers to tough sexual questions.
The Tech sets the standard for online college newspapers and they have been incredibly forward thinking when it comes to sex over the years.
University of Georgia Health Center
The Health Center has really taken it upon themselves to provide up to date, accessible sexual health information. You can find a wealth of information and never have to leave their own website.
University of Maryland Health Center
I really like what the university has done with their online health center information. They provide some national resources in addition to local and they have a nice emphasis on LGBT issues.
University of Illinois at Urbana-Champaign: McKinley Health Center
The McKinley Health Center offers a well-rounded program that includes some web information but even better – a health promotions department and a "dial-a-nurse" for student health questions.